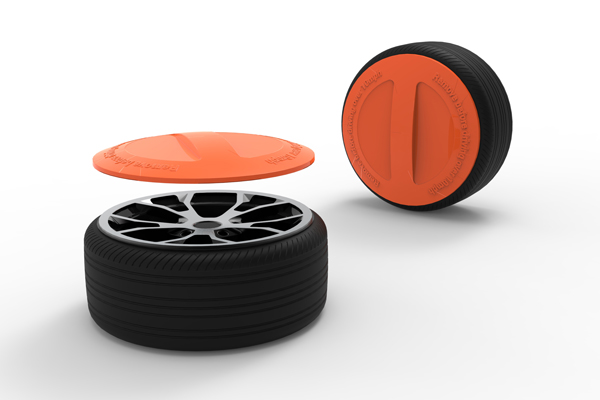 Protecting alloy wheels
Fresh solutions for the automotive industry
Alloy wheel protectors allow vehicles to be taken from production line to dealers without any damage.  Charpak's original solution to this avoidable risk and expense was to devise a reusable alloy wheel and rim protector.
The protective wheel covers allow new vehicles to be driven at low speeds and prevents the common causes of scratches and damage often associated with vehicle storage and distribution.  The protective covers can be supplied in ultra-bright colours for attracting attention in low-light conditions, as well as in clear materials, to allow different alloy wheel designs and surface finishes to be easily identified.  The Automotive Division has also been asked to produce covers with designed-in noise generators.
The reusable alloy wheel protectors substantially reduce the risk of damage during the manufacturing supply chain, and remove requirements for any re-finishing. With the extensive range of alloy wheel designs available in the market, all Charpak wheel covers are bespoke designed for each individual set of requirements.
For more ideas-based designs on Charpak's protective packaging solutions contact our Automotive Division.