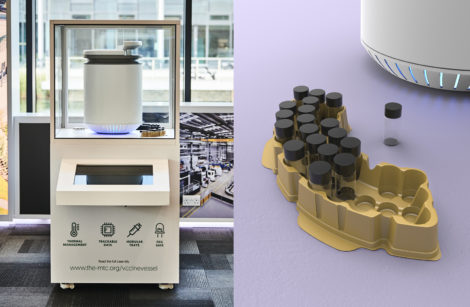 Charpak part of MTC collaboration developing revolutionary vaccine vessel
Charpak has played an integral role in the research and development of a new vaccine tray that could revolutionise safe storage and transportation of refrigerated pharma goods worldwide and even to some of the remotest villages on earth.
The Huntingdon based business, the UK leader in thermoformed packaging, has been part of a collaboration of design specialists assembled by the Manufacturing Technology Centre (MTC) to create a vessel that helps prevent the waste of some 6.3m vaccines each year – almost 60% of them due to 'fridge-related' failures.
Although the vessel is predominantly in response to improving the preservation of covid vaccines, it could be developed further to transport other medical supplies such as organs and blood, such is its resilience.
Charpak's Automotive Lead Niall Johanson explained: "The MTC has essentially developed a self-contained portable fridge that, when the lid is lifted to remove vaccines, then closes itself to retain the optimum temperature.
"Our bit has been to come up with a special tray that is thermodynamically optimised to allow the air flow within the vessel to keep everything at the right temperature.
"The vials can even be turned upside down as they are clipped in and, because the vessel runs on a battery which keeps everything flowing inside, it means it can be taken to many different corners of the world – it could even be carried on one's shoulder to a remote desert village."
Niall added: "The concept was interesting for Charpak – whilst we have done more conventional packaging for medical instruments before, this was something new again.
"Interestingly, I was able to apply some of my experience from thermodynamics in Formula 1 which helped to work out the amount of air and flow rates required to maintain a stable environment inside the vessel."
The MTC is currently searching for industrial partners to co-fund this fascinating and incredibly worthwhile project