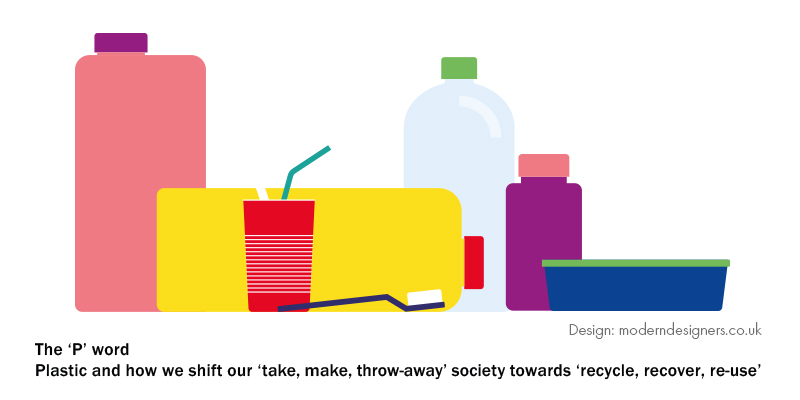 Pioneering research from the University of Cambridge
The new Cambridge Creative Circular Plastics Centre (CirPlas) at the University of Cambridge focuses on innovations in plastic use, re-use and avoiding use.
Funded by UK Research and Innovation, CirPlas aims to eliminate plastic waste by combining blue-sky thinking with practical measures, connecting expertise across the disciplines and collaborating with industry and local government.
To find out more about the pioneering research being undertaken on reducing plastic waste, read the recent article in Horizons magazine here
Its author, Dr Louise Walsh, asks:
"Plastic has become a malevolent symbol of our wasteful society.  It's also fundamental to almost every aspect of our lives. How do we shift our 'take, make, throw-away' plastic world towards 'recycle, recover, re-use?"
CirPlas, which includes the Cambridgeshire and Peterborough Waste Partnership (RECAP) and Cambridge Cleantech, focuses on a programme of ground-breaking initiatives surrounding the ongoing challenge of plastic waste.
The initiative also includes the Cambridge Judge Business School's Circular Economy Centre, which has chosen Charpak Ltd as a case study to look at the viability of a circular business model. The University of Cambridge is analysing the Cambridgeshire Localised Circular Economy programme as part of the CircPlas research. Researchers examine the business case for packaging manufacturers adopting a localised circular economy.
Dr Soufani, of the Circular Economy Centre, says
"We need to shift from a culture of mass consumption, and waste towards renewability, dematerialisation and reduced resource loss.  Our need to reduce, remake and recycle is a continuous journey towards circularity that will define our relationship with the planet forever."
As part of Charpak's commitment to Eliminate Plastic Waste and development of a circular economy in partnership with the Cambridgeshire and Peterborough Waste Partnership RECAP, Charpak have been given approval by the University of Cambridge to share this pioneering research to help educate and inform.
Read the University of Cambridge article here
© University of Cambridge, with permission.