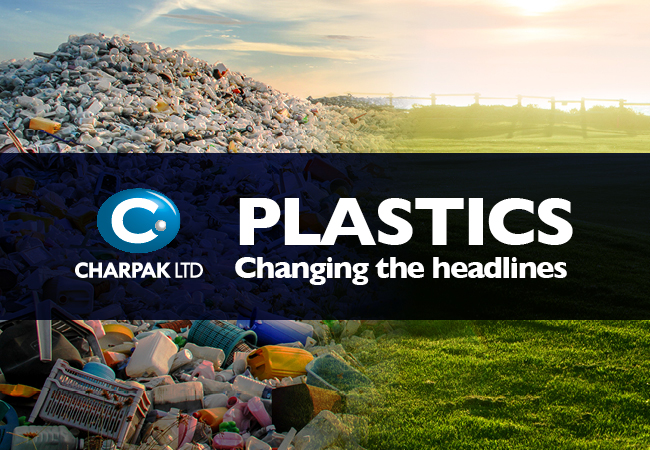 NEW Packaging Innovations for 2020
Investing heavily in new materials development over the last 12 months, Charpak continues to manufacture widely recycled packaging from a minimum of 75% recycled PET, some of which includes the local circular economy recycled resources.  When more packaging is recycled because consumers believe and trust that it is re-used, we will have access to more circular resource, and contribute even greater to reducing packaging (and food) waste.
Everyone is more acutely aware of uncertainty around climate change, increasing legislation interventions and challenging economic times.  The increased attention on sustainability and the environmental impacts of food production, waste and packaging will continue at pace.  We know this applies to every industry sector.
Charpak provide solutions to these challenges.  We help our clients and partners achieve their goals.  Charpak's mission is to design and manufacture sustainable packaging that doesn't cost the earth.  Our packaging is designed for recyclability, and designed for the circular economy.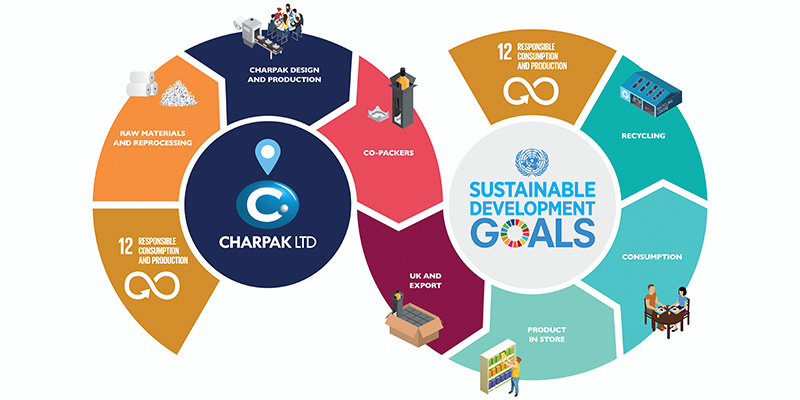 Charpak's new 2020 packaging solutions
Charpak's R&D programme has expanded the Twist-Loc® range for food-to-go, bakery, ambient and convenience snacking markets.  The patented design eliminates micro-plastics through its integrated tamper-evident twist-and-lock mechanism.  Twist-Loc® is available in a range of sizes, and thicknesses.  Packaging is manufactured from recycled material and can be reused and recycled again and again. The new designs mean the product is suitable for dips and salads in addition to FMCG ambient and dried food products.
Our mission is to design and manufacture lightweight and widely recycled solutions.  Packaging is made from at least 75% existing recycled material and use of circular economy resources continues.  Expansion of the local circular economy model is a key priority to prevent waste and reuse existing resources and materials.
We offer clients more lightweight packaging solutions that are designed for recyclability, are focused on net zero targets and aim to lessen climate impact.  Every innovation is designed to contribute to achieving the United Nations Sustainable Development Goal 12: Responsible Production and Consumption.  The single-minded focus on this one goal, as a manufacturer, is that it has even greater environmental gains with positive impact on Life on Land, Life below Water, and Climate Action.
New 2020 materials innovations to remove plastic waste and increase circularity
Charpak are bringing the 100% recyclable NEW rPET flock packaging for the premium, luxury and drinks brands.  This new material solution helps our global clients.  The Premium, Luxury Drinks sector, who require premium packaging, need fresh solutions which place less pressure on diminishing global resources.  And reduce use of increasingly limited water resources.  This European manufactured rPET flock delivers extra value and benefits for global drinks brands, beauty and personal care and the luxury packaging sectors.  It also reduces carbon footprint.
Our latest material development is Satchmo.  This new solution reuses Coloured/Jazz material and could replace black plastic packaging with a widely recycled solution. 
Our Silver packaging also contains Jazz Black material. Manufactured from 86% recycled material this perfect substitution is an already-available replacement for black plastic packaging which is commonly used for the premium product ranges.  Our industry trials have proven it can be sorted, collected and recycled ready to be re-made into new food grade packaging again and again.  This is a new for 2020 circular economy plastics resource, where plastic no longer becomes waste.
The new material is food grade approved, and suitable for food and non-food, value added packaging, in-process manufacturing and those looking to procure more sustainable and less damaging packaging, for any industry and sector.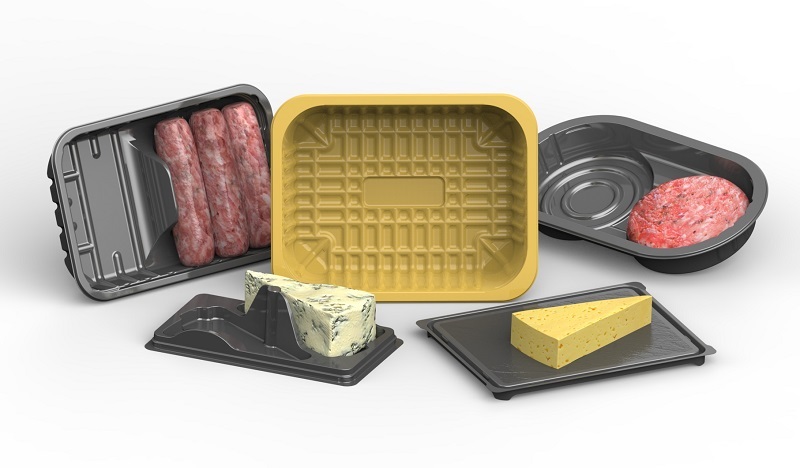 The company aims to expand its circular economy solution for this new material which is available in standard packaging formats.  It can also be custom-designed and thermoformed for new bespoke rigid packaging solutions across the diverse range of sectors.
Charpak have co-created this new material in collaboration and partnership with our suppliers.  This is in addition to investing £1.5m+ in new, more high-volume and energy efficient thermoforming machinery.  Charpak production uses water entirely from a closed-loop water system.
Efficient new lightweight packaging solutions for industrial manufacturing
Charpak also provide lightweight and more efficient packaging to the industrial and commercial sectors.  Precision-engineered packaging design meets business demands of process efficiency, cost reduction and environmental leadership in global supply chains where sensitive component and electronic parts are protected by Charpak packaging.
Re-designed for robotic manipulation and automated production lines the solutions can increase in-process manufacturing efficiencies with their reusable, returnable and recyclable solutions.  Designing more efficient packaging means our precision-engineered solutions hold more components per cubic metre, and helps reduce emissions to lessen carbon footprint.  Global industries are benefiting from significant transport savings, fewer delivery vehicles, reduced product damage and far less wastage.
Justin Kempson, Sales and Innovation Director, said;
Charpak Ltd proves once again that it is serious about sustainability by creating new and innovative materials and designs. As a business we have to remember that our customers are interested in driving sales. We should never lose sight of the primary function of packaging, which is to protect and sell the product inside. Charpak achieves this for our customers (Waitrose & Partners Treat Tubs +16% YOY) but the difference is that we achieve this with sustainability at its heart across everything we design and produce.
He adds:
We look forward to updating with existing customers and helping new customers. Contact us to find out how we can help you find your most sustainable solutions, that don't cost the earth.
Ellen MacArthur Foundation's New Plastics Economy inspired Charpak to lead the development of the UK's first local circular economy with our collaborative approach.

In the first six months over 8 million pieces of packaging has been made from the Cambridgeshire recycled material.

Over 1,000 tonnes has been recycled and reused by manufacturers within the UK.

Twist-Loc was selected as a Top 10 Finalist in the Packaging Innovations 2019 Innovation Showcase and  first adopted by Waitrose & Partners for their Mini-Bites Treat Tubs range.
Waitrose reported a 16% year-on-year sales increase in the first few months.
Twist-Loc® also achieved nationwide industry recognition from independent industry judges Winning Innovation of the Year 2019 at the prestigious UK Packaging Awards.
To speak with the Charpak team, about new packaging, innovation, concepts designs, materials developments and new packaging designs, Justin Kempson and Charpak's packaging consultants email enquiries@charpak.co.uk.   Contact our experts for your packaging needs.