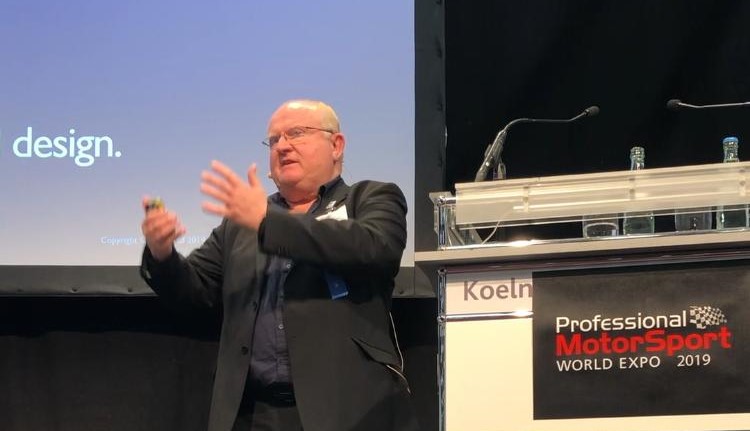 How to make high-performance engineering circular
Last month we conducted a seminar introducing "Circular Economy Solutions for High-Performance Engineering" as part of the Professional Motorsport World Expo conference programme.
The well attended audience included Pan-European industry leaders who were looking to find out more about how to embed sustainability and circular economy business models into their heart of their businesses.  Niall Johanson's seminar commenced with a 40 min. talk on the circular economy key principles highlighting how a circular economy model meets business demands of process efficiency, cost reduction and environmental leadership.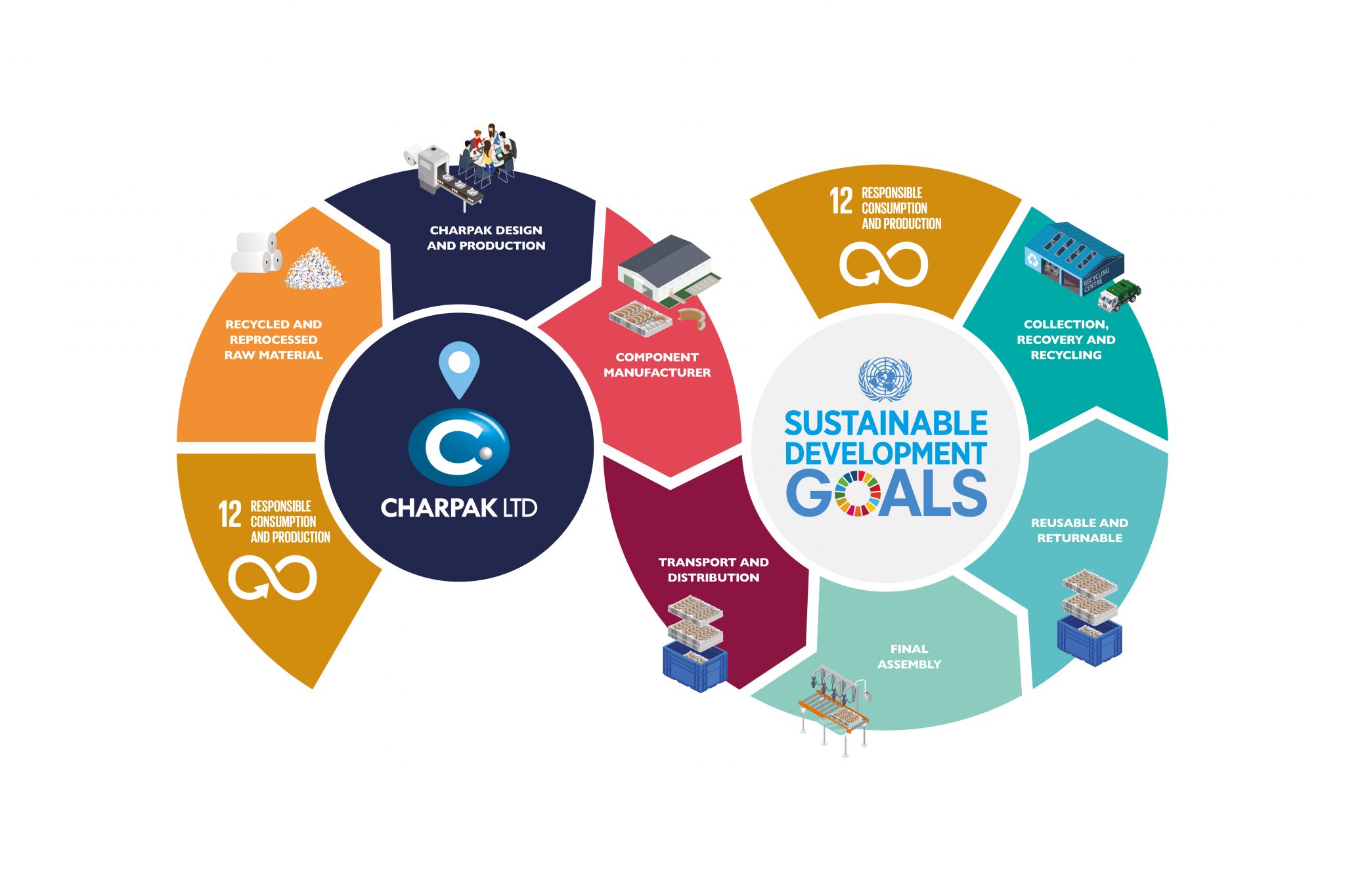 The business model developed by Charpak for the high-performance engineering industry provides new packaging solutions which use re-manufactured materials to reduce both materials waste and product waste.  By protecting component parts more effectively from damage the accuracy of the packaging aids robotic assembly, and their cleanliness means less manual handling for efficient in-process high-performance engineering manufacturing.
The redesign of precision-accurate packaging solutions was clearly described.  Niall presented case study examples of new innovations which can resolve existing challenges that are commonplace throughout the global industry.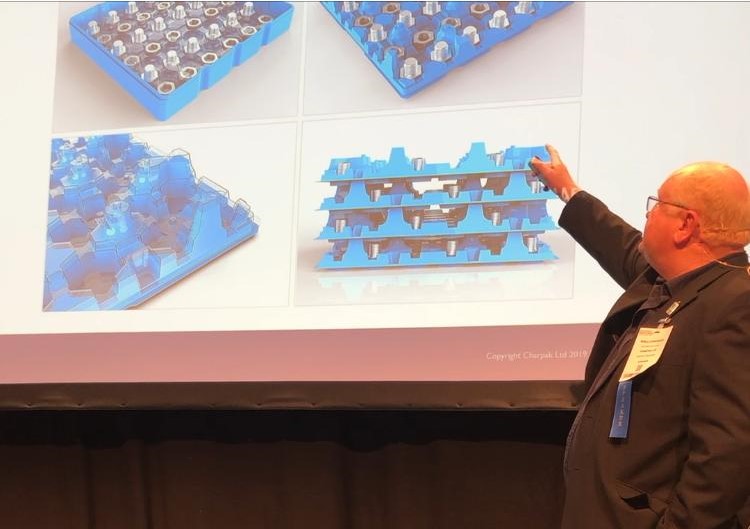 There are significant untapped opportunities for the industry to adopt new solutions within their businesses.  The impact through simple packaging re-design and re-engineering is ground-breaking, and being design-led this can revolutionise the industry through far higher process efficiencies, cost reduction, and cleanliness.
The seminar was extremely well received by the delegates, with attendees posing highly technical questions of Charpak's Automotive Lead Engineer. The Chair, David Wood, well-known ex-Cosworth Race Engine Designer, posed interesting questions for Niall Johanson to expand on:
"Can Charpak rPET trays be used for fixturing in laser welding processes?"
Yes, and our highly accurate bespoke designs can be used in a multitude of applications where highly accurate jigging is necessary, for example robotic manipulation throughout automotive manufacturing.
"How sustainable is Charpak rPET against other popular packaging materials, such as cardboard"
Charpak rPET is manufactured from a minimum of 70% recycled material, and contains up to 90% recycled material, so it's using existing resources.  Plastic is lightweight, so not only does this reduce weight for transport and distribution, the multi-reuse solutions can be recycled, and present a closed-loop solution.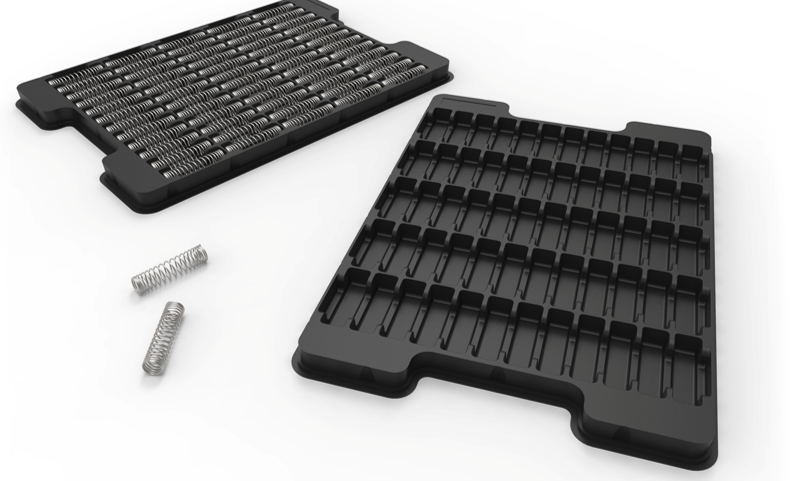 The stackable trays take less space, they are easily nested-and-denested and they are designed specifically to hold more components per cubic metre.  This alone signifies fewer delivery vehicles and fuel and transport savings.  Positive location stackability also reduces stock handling issues.
rPET is significantly less environmentally damaging because expendable packaging and cardboard is a single-use solution.  By comparison to cardboard specifically, there is no risk of moisture, atmospheric or accidental damage.  Packaging can be pre-moulded to similar tolerances to the components themselves; the level of accuracy of the packaging solutions is incomparable to cardboard.
Charpak will be running further seminars and programmes in 2020 where Charpak's Automotive Lead will be sharing further innovations and inspiring more engineers, business-leaders and sustainability champions to adopt the new solutions.
With over 30 years expertise in designing and manufacturing bespoke packaging solutions Charpak's unique design-led and engineering-led packaging solutions, which are made from lightweight recycled plastics, make a substantial difference in achieving the environmental targets required of the high-performance engineering industry.
The bespoke packaging is manufactured using a closed-loop water system, lower energy resources and is re-manufactured from super-cleaned recycled plastic materials.  These can be re-manufactured again and again and deliver the transformational change and solutions industry-leaders are seeking.
Having developed engineered solutions for Formula 1, Indycar, and WRC Niall's 30+ years of expertise in hydraulics and high-performance engineering means he applies his extensive technical expertise to projects.  With his team of packaging design engineers, bespoke solutions are developed for every individual component, and client. Demonstrating how the new circular solutions worked in practice, particularly in the robotic manipulation of automotive process manufacturing for components Niall expanded on the solutions the company produces for high-gloss trim parts, bearings, lithium ion battery components, engine parts, electronic sensors, wiring looms and more.
Since this event in Cologne, Niall has enjoyed being the opening conference speaker at the Silverstone Technology Cluster conference on 10th December, where he introduced the revolutionary solutions applying them to new simulation technologies.  Due to speak at the Engine Expo in Stuttgart in 2020, we recommend you don't miss the date for your diary in 2020: #PMWExpo 2020 November 11, 12, 13 in Cologne, Germany.
Find out more about bespoke, high-performance engineering solutions contact Niall Johanson and Charpak.