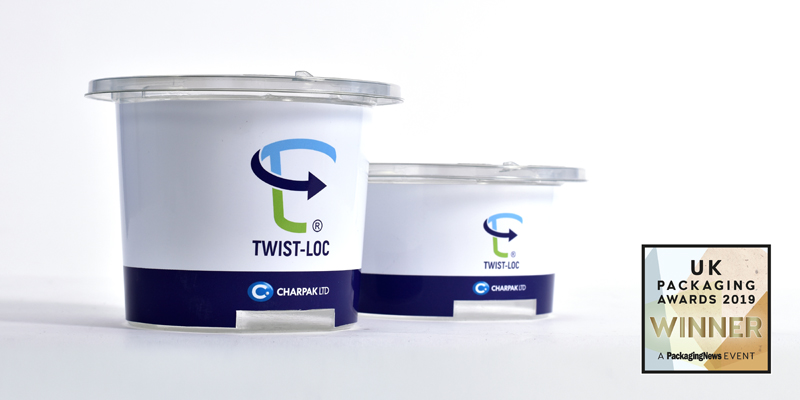 Innovation of the Year 2019 Winners
Charpak Ltd are delighted to be announced as Winners of the Innovation of the Year 2019 at the UK Packaging Awards.  Our ground-breaking Twist-Loc® Treat Tub success follows on from Winning SME of the Year 2018.  The Charpak team collected this latest accolade on Thursday 7th November 2019 at The Grosvenor House Hotel, Park Lane, London.
The Innovation of the Year 2019 category was one of the fiercely contested categories with three companies receiving Highly Commended, and 8 shortlisted Finalists.
Twist-Loc® was designed specifically to:
Replace 'new' plastic with a recycled product to prevent plastic waste.
Remove micro-plastics. There's no small plastic break-off-parts because the tamper-evident mechanism is integrated within the pack.
Reduce plastic Each Tub uses 7.5g less plastic per tub than the packaging it replaced.
Reuse existing materials. Twist-Loc® is made from up to 90% recycled PET plastic material. 
Recycle The removable cardboard sleeve also means 100% of

the packaging can be recycled. 

Reuse The Tubs can be reused by customers at home before being recycled again and re-made into another Twist-Loc® Tub, other packaging, or something else.
The UK Packaging Awards Judges commended Charpak's excellence for "its use of highly recycled content; and the packaging design.  The pack is both easy to open and recognisable (particularly for older people or those with limited dexterity.  Because of the format it will be reused in the home."
Managing Director, Paul Smith confirmed:
"We are delighted our commitment to developing the Twist-Loc® Tub was supported by Waitrose & Partners as the first UK supermarket to launch with our new packaging. As a family-owned business every employee who works with us has played a part in this success.  It's been a real team effort, so we thank everyone in the team."
Director of Sales and Innovation, Justin Kempson, added
"This new packaging was designed specifically to replace 'new' plastic with recycled content to prevent plastic waste.  The pack can be reused many times before being put into household recycling bins.  Then Twist-Loc® can be recycled and re-made into something else.

"Seeing Waitrose Treat Tubs on sale nationwide in Charpak's Twist-Loc® is amazing.  Winning this highly contested industry award is the icing on the cake.  We would love more supermarkets and other businesses to replace their hard-to-recycle packaging with this solution.  For the industry to recognise us over and above far larger (and global) companies as the Innovation of the Year 2019 winner; we're overjoyed!"
Charpak's NPD Programme
Charpak's ongoing NPD programme includes more new packaging designs and developments that prevent food, product and plastic waste. We focus on designing new packaging solutions that reuse existing recycled materials.  Our in-house team of packaging designers, technical engineers and production team develop solutions that offer multi-use and reuse capabilities.  We design for circularity (where end use allows) because plastic doesn't need to end up as waste in the environment.
These initiatives are in addition to our launch of the UK's first Local Circular Economy in 2019.
Without a doubt, there's more to come from us in 2020 and beyond, as you are guaranteed we continue to develop "sustainable packaging that doesn't cost the earth".
If you're looking for new packaging solutions, that are expertly designed, designed for reuse and designed for the circular economy don't hesitate to get in touch with our multi-award-winning team.