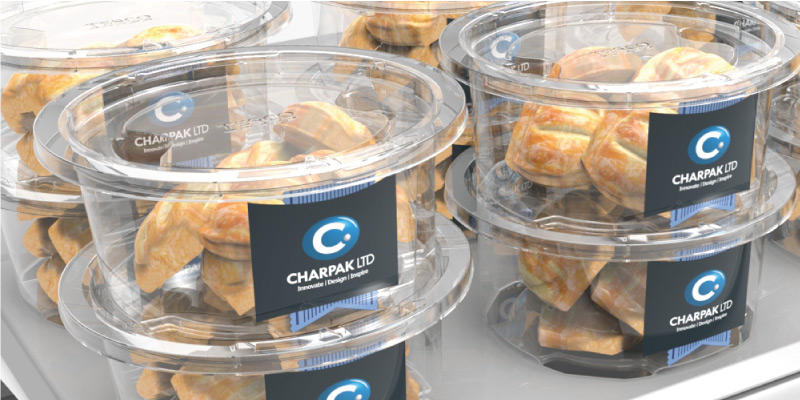 Leading the way in Sustainability
Twist-Loc, the new 100% recyclable plastic packaging tub from Charpak
With plastic pollution at the top of the agenda we must ensure that when packaging products we all use the optimum material for the purpose of the packaging.  Charpak Ltd have designed and developed a new packaging tub which resolves this challenge.  Sustainability must be at the heart of packaging.  Charpak fully embraces the Ellen MacArthur Foundation New Plastics Economy model, and is an active founder member of the UK Plastics Pact.
Sustainability is at the heart of what Charpak does. Charpak has been at the forefront of designing and manufacturing sustainable packaging for years, and our latest patented innovation, Twist-Loc, has been designed to a replace less sustainable packaging.  This new patented product replaces packaging which has been produced in Injection Moulded PP.
Twist-Loc is 100% recyclable, and, when the clear version is chosen, it is widely recycled throughout the UK.

Twist-Loc is an rPET thermoformed tub which can be used across ambient, chilled or frozen sectors, food and non-food products.

It contains a minimum of 75% recycled material, and is widely recycled throughout the UK

The tub weighs 3.5 grams less than the existing retail packaging.

Twist-Loc can be manufactured either as a fully wrapped or labelled product, again aiding recycling.

It removes all risk of micro-plastics leaking into the environment. 
The packaging includes integral tamper evidence – a first for a thermoformed pack – giving retailers and consumers security in the knowledge products are pristine for purchase.  Replacing the traditional clip on lid Twist-Loc's unique design features a lid which 'twists closed and locks' which means it is reusable in commerce and industry, and by end consumers at home.  This integral tamper evidence reduces all risk of micro-plastics as it contains zero 'tear off bits'.
Leading by example, Charpak are committed to multi-use, and multi-reuse of plastics in a circular economy.  We work with our partners to ensure household collected bottles and trays and are recycled, and reused again and again into the next generation of trays and containers, and other new packaging and new products.
Justin Kempson, Director of Sales and Innovation advises
"It is vital to create value in the recycle chain, to retain plastics in the system as a reusable resource and prevent waste. Our aim is to ensure all future Twist-Loc tubs are made from a circular and renewable source, alongside our range of other packaging products."
Contact us today to talk to our materials experts, NPD team or packaging consultants about Twist-Loc or any other packaging needs.