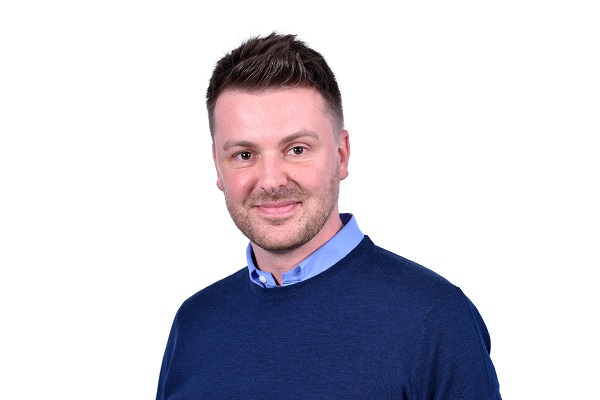 Charpak welcomes Jonathan Pearson to its expanding team
Jonathan Pearson joins Charpak as New Business Development Manager bringing his 16 years packaging experience to the Charpak team.  His understanding of all things packaging extends to almost every format and material – from HD/LD poly bags, SRPs, corrugate, tin, to paper.
Based in Central Scotland, Jonathan's focus will be to strengthen the existing relationships with our clients in Scotland, and develop new business opportunities in the region.
Jonathan advised he joined the company because
"Charpak has an esteemed and distinguished reputation for design and innovation within the retail sector and I believe that innovation is key to bring to the attention of the Scottish Drinks Industry."

"With packaging being fundamental in the battle of the brands and competing for shelf space, Charpak has over 30 years of expertise to help maximise both space and display, and to package world-renowned brands to their fullest potential. Charpak's rich heritage means the company is well placed to become the Drinks Industries' sustainable supplier of choice."
For the last 6 years Jonathan has been a direct supplier sourcing packaging for the Scotch Whisky Industry.  And though Jonathan adds his guilty secret as "I am, shamefully for a Scotsman, someone whose whisky palate has yet to mature; and I aim to practice my this over the coming years so I can become a true whisky connoisseur….  I am one of those sad people who is frequently more interested in the packaging than the contents of the bottle."
Outside work, as a dedicated husband and father of two Jonathan's in his free time you'll find him on the golf course or collapsing of exhaustion on a football pitch.  With a natural flair for sport, Jonathan was voted most promising footballer player, and collected golf, lawn bowls and tennis amateur trophies.  With no end to his talents Jonathan's musicality and appreciation of the guitar also amassed quite a collection of acoustic and electric guitars, though recognising electric guitars and babies don't mix – much of his collection has been rehomed.
Paul Smith, Managing Director says
"We are delighted to welcome Jonathan and his incredible talents to Charpak. When we discovered he was instrumental in bringing one of the first Bag for Life initiatives with one of the UK's leading retailers it showcased perfectly his insight and intelligence led approach to finding answers to complex challenges."

Paul adds "Jonathan's impressive lead in sourcing a fit for purpose product which incentivised shoppers to reduce their use of harmful single use carrier bags with a reusable solution (and which we now know has been adopted by all major retailers) demonstrates his approach to finding new scalable solutions. Jonathan is a perfect fit for our business. 

We are looking forward to achieving further success in Scotland with Jonathan very much at the helm supporting our existing clients and introducing new clients; where we can best service their packaging needs."  
Both Charpak and Jonathan advise "We are excited for the journey ahead."
Jonathan Pearson can be contacted on 01480 434 434, 07483 058 297 or email him at jonathan.pearson@charpak.co.uk.