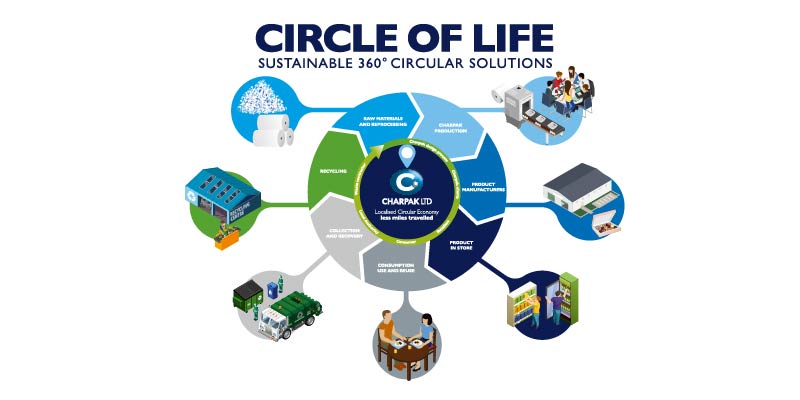 Eliminating Plastic Waste with a Circular Solution
The University of Cambridge partners with Huntingdon-based company as a Circular Economy Case Study
The Circular Economy Centre at Cambridge Judge Business School has chosen Huntingdonshire-based packaging manufacturers Charpak Ltd as a Circular Economy case study collaborative partner.
Charpak have led the development of the UK's first Localised Circular Economy in partnership with the Cambridgeshire and Peterborough Waste Partnership (RECAP).   The designers and manufacturers of thermoformed rigid packaging have spent the last 12-18 months developing the programme with RECAP, who first introduced Charpak to The Circular Economy Centre.  The Cambridgeshire-wide circular economy programme has been live since January this year. The initiative takes plastic waste collected throughout Cambridgeshire, and following use, the packaging is sorted, recycled, cleaned and re-manufactured into plastic for new products for another use, again and again.
The University of Cambridge 18-month research project will analyse this initiative as part of a wider study to assess creative circular economy approaches to Eliminate Plastic Waste.
The Circular Economy Centre at the Judge Business School is one of 10 research groups across 9 University of Cambridge Departments involved in the new UKRI funded Cambridge Centre for Circular Economy Approaches to Eliminate Plastic Waste. The Centre, which includes the Cambridgeshire and Peterborough Waste Partnership (RECAP) and Cambridge Cleantech will focus on a programme of ground-breaking activities surrounding the ongoing challenge of Plastic Waste.
Paul Smith, Charpak Managing Director comments

"As a leading design and manufacturing company, we recognised the responsibility we have to help allay consumer fears and take major initiatives to achieve a truly circular plastics economy. Charpak and RECAP both want and need consumers to recycle more, and better, to reduce the volume of waste; and ensure materials that can be transformed into a renewable resource, are.
To be collaborating with The University of Cambridge on their Research Project extends our vision of starting with local circularity; with a view to this circular model being deployed further afield, UK-wide and internationally." adds Paul Smith,. "We want to prove that despite the challenges in delivering a Circular Economy, it is feasible and achievable with involvement from consumers, businesses, local authorities and NGOs. Minimising waste in the natural environment is a responsibility Charpak takes very seriously, so we must ensure plastic becomes a resource and not waste."
The University of Cambridge will analyse this case study solution and report on their findings in 18 months.  Part of the assessment will include how the approach can be developed further, deployed nationwide and tailored for other global regions, and for other materials.
Justin Kempson, Director of Sales and Innovation at Charpak, adds:

"With compostable and biodegradable plastics not yet feasible to process in the current waste infrastructure moving to recycled and reusable packaging must be the way forward.  Recycled plastic resource is suitable and perfectly viable as a renewable, reusable resource,  research evidence confirms that recycled plastics use 75% less energy and reduce greenhouses gas emissions.  Already we have further development programmes underway, which we hope to bring to market within the next few months."
Charpak Ltd also joined the University of Cambridge Judge Business School's InnoFrugal UK conference on Tuesday 19th March https://www.uk.innofrugal.com/ where Dr Khaled Soufani shared his expertise on the "Circular Economy: An Overview and Looking to the Future" to an international audience including academics, private enterprises and public sector organisations.
For more information visit https://www.jbs.cam.ac.uk/faculty-research/centres/circular-economy/