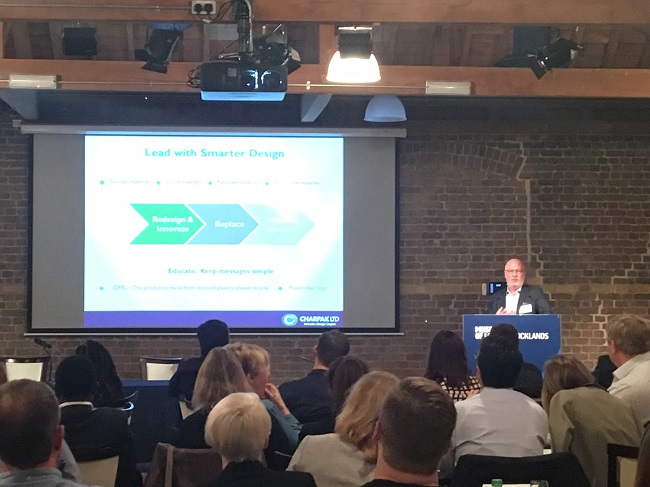 3 steps to Designing for Recyclability
Highlighting to over 100 delegates the increasing importance of designing sustainability into packaging as a core part of the new product development process Justin Kempson, Charpak Sales & Innovation Director, was speaking at the Consumer Driven Packaging Trends and Innovations Conference at the Museum of London Docklands on 10th October 2018.
Recognising the global environmental challenge in which everyone has a part to play Justin Kempson shared a framework for reviewing product packaging to attendees from design agencies, manufacturers, global brands and drinks manufacturers. Thought a simple framework there are multiple complexities for brands and manufacturers when reformulating existing products, requiring new manufacturing solutions, or launching new products to market. Charpak recommend applying a 3 step process to Design for Recyclability. The 3Rs methodology of reducing waste, reusing existing resources and products and recycling materials for re-manufacturing into new products, is integrated within the Charpak NPD design process.
Starting with assessing the products' technical and functional requirements. Considerations include whether products require packaging to protect critical parts, or fragile contents from damage in the UK and for export.  Electronics and electrical components that prevent oxidisation, or food being kept fresher for longer with extended shelf-life from manufacture to consumption on-the-go or at home products demand great performance from their packaging. Is tamper-proof functionality a mandatory need for products on shelf and products in transit.  Liquids, ambient, chilled or frozen food products and carefully temperature controlled environments all require different functionality and many challenges that packaging must solve. With seal and reseal requirements for many products, or carefully formulated vitamin and nutrient considerations, a product has multiple dependencies and technical demands on its packaging. Ease of use for consumers and labelling of packaging and its contents must be considered at the outset. Score each requirement and rank in order of priority.
Then review the full range of materials. Developing new packaging technologies and packaging formats is an expensive and dynamic industry, placing many demands on natural resources. Which material is best for use in the product's manufacture, can one type of packaging take a product throughout the supply chain process from manufacture through transport to on-shelf life display? Which materials use the most or least water resource, are materials a byproduct of another manufacturing process, how to best minimise C02 emissions and prevent rising sea temperatures.  Consider lightweight more durable material options, those which require fewer trucks on the road, and not require over-packaging or additional outer cartons.  Is the visibility of the product paramount, and the packaging experience core to the brand experience and consumption. Where possible, and feasible, consider a single substrate, or polymer material, whether it be plastic, glass, metal or board. Which offers the most durability and a single substrate option. The materials range is great and varied so why not ask the experts who live and breathe this. 
Consider Lifecycle Analysis and End of life of the packaging from source to end of life, or which can be applied in a circular system. Evaluating the available packaging options to address these questions can be a minefield.  Is a single use glass vs single use plastic bottle better, are laminated sandwich packs vs recyclable plastic with a 'watch-strap' board wraparound containing the nutritional information a better alternative.  Using multiple paper bags vs bags for life and how to assess which is the least environmentally damaging involves complex analysis.  Each product requires, and material type offers, differing advantages and disadvantages. With a new range of biodegrable materials in development  assessing their use, reuse, and recycle capabilities vs existing fossil-fuel based plastics, can they be fully biodegradable in the current waste/resource stream.  Which materials contribute best to a circular system and least environmental impact throughout the production, manufacture and consumption lifecycle. The challenge for brands and manufacturers is to optimise for product, budget and deliver the brand experience, whilst meeting the environmental requirements of packaging reduction, packaging reuse and packaging recyclability.
This 3 step process highlights just a sample of the complex NPD packaging considerations to minimise environmental impact. As experts in the field with over 30 years' experience of designing and manufacturing plastic packaging Charpak's technical experts and materials specialists design for recyclability (where end use allows).  Offering technical materials and packaging advice to marketing teams, product developers, buyers, brand owners and engineers addressing the complexity of packaging requires packaging experts, where Charpak add this value to each clients' needs.
From short-run production to all year round manufacture Charpak will be happy to discuss and provide a bespoke design and packaging solution. Contact us today to see how we can help your business.
Nearly 100% of Charpak packaging is manufactured from recycled plastics, with food grade certified approval and full traceability.  With a 24 hour production facility and in-house design, prototyping, engineering and manufacturing capabilities you can be guaranteed exceptional service, also accredited to the highest BRC Grade AA certification and ISO 9001 : 2015 standards.