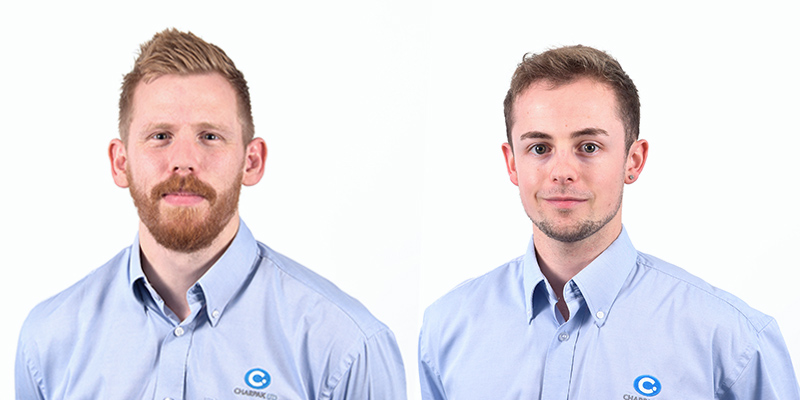 Award-winning designers join the Charpak Team
Charpak are delighted to welcome two highly talented packaging designers to the Charpak Technical Design team.
Packaging Designer, Max Cubitt
Award-winning product designer Max Cubitt has an impressive MSC in Integrated Product Design from the University of Brunel. Max has also been recognised by Marks & Spencer, Birds Eye and BT winning 3 design awards for his product innovation.
Max brings 6 years' product design experience from the events and team building industry' and constantly challenges his creative and technical boundaries. Max's nirvana design moments are when he creates a truly interactive experience between the consumer and product.
Max designs packaging solutions for commercial market sectors using his technical 2D and 3D design skills in KeyShot, Solidworks, and CREO while incorporating physical prototyping.
Junior Designer, James Martin
James Martin brings energy and enthusiasm to the Technical Design team as our Junior Designer. Graduating from Loughborough University with a BA in Industrial Design James is happiest when designing extremely technical and aesthetically stunning designs, new concepts and blue-sky ideas.
James likes to challenge the boundaries of engineering capabilities whilst at the same time ensuring every design is manufacturable. James is happiest when he sees his conceptual packaging designs on sale in national retail for recognisable international and UK brands. Outside work James is an active sportsman, an avid sketcher and a keen freelance graphic designer.
A comprehensive design briefing is developed with clients at your initial scoping meeting. Max, James and Charpak's wider team of packaging designers, graphic designers, design engineers and tooling experts design technically brilliant, and imaginative packaging which is perfectly formed packaging for our clients' requirements.  You can find out more on Charpak innovative and imaginative packaging solutions here.