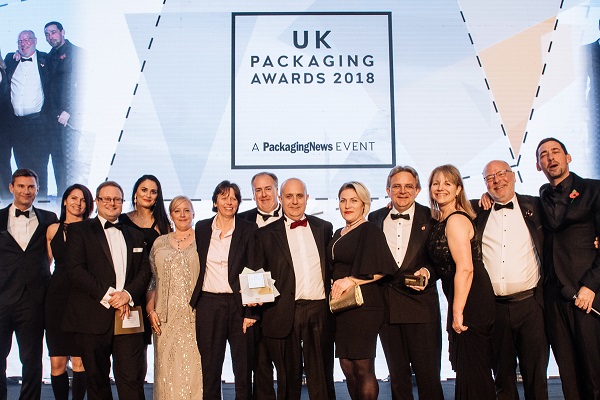 UK Packaging Awards SME of the Year 2018
Packaging designers and manufacturers, Charpak Ltd, are jubilant after achieving success as Winners of The SME of the Year at the UK Packaging Awards held at The Grosvenor House Hotel, London on Tuesday 30th October. Selected by the judges at the prestigious national awards ceremony, attended by over 700 representatives from across the industry, the company was recognised for "taking an honest approach to plastic concerns and valuing plastic as a raw material." The panel of judges commended Charpak on delivering "great looking packaging [and providing] an excellent Q&A section."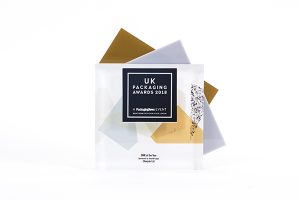 Paul Smith, Managing Director accepted the Award with representatives from across the business:
Leading the way in minimising environmental impact and growing plastics as a resource stream for new products and packaging, rather than plastics being a waste leaking into the environment is a commitment the company are hugely proud of.

And we are delighted to be recognised by the industry for the commitments we make as a UK independently owned SME exploring innovations in materials, technology and design; and creating cross-industry collaborative partnerships to meet the ever-changing world of sustainability.
During Budget 2018 this week, Philip Hammond announced a new tax on the manufacture and import of plastic packaging which contains less than 30% recycled plastic. Charpak's clear and black PET packaging is manufactured from recycled plastics, with up to 90% of the raw material being recycled rPET. Meeting the highest quality standards of both material and products, this also supports clients with no additional taxation or cost implications. The raw materials to manufacture the packaging, which is used in retail, food packaging, automotive, and commercial and industrial sectors have already been recycled, super-cleaned and reprocessed ready for manufacture into new rPET products.
Charpak are thrilled to be recognised by the industry's expert judging panel for their progressive approach. The business' continued investment includes it's expanding team, and four new state-of-the-art thermoforming machines in 2018. The company achieved again the highest quality standards of ISO 9001- 2015 and BRC Grade AA packaging certifications ensuring the company's commitment to designing and manufacturing the highest quality bespoke packaging for each and every one of their clients reinforces the judges' feedback on "great looking packaging." The judges also stated the company "consistently punches above its weight."
Looking forward to 2019 and the long-term Charpak continue to go from strength-to-strength with their strategic plan designing and delivering recyclable thermoformed packaging in existing core markets and expanding into new markets.
Contact our technical experts, design engineers and packaging technologists on 01480 434 434 or enquiries@charpak.co.uk to see how the award-winning team can help your business achieve its packaging and sustainable goals.