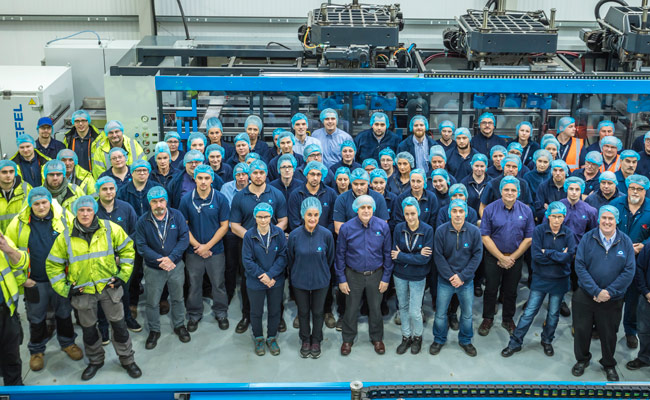 Investing in People
Developing High Performance Employees
Learning and Developing (L&D), often called Training and Development, forms part of an organisation's talent management strategy and is designed to align the company, individual's goals and performance. Charpak L&D encompasses 3 main aspects; training, education and development and is overseen by the HR Manager.  Charpak is committed to investing in its people and endorsed by Managing Director, Paul Smith, who defines it as "improving individual and business performance through developing employee skills and ability".
Charpak funded and supported Mr Christopher Bowmen through his engineering apprenticeship. He started work at Charpak Ltd on 10th November 2014 as an Apprentice in Mechanical Engineering, to gain knowledge and skills within the engineering world and reporting to the Maintenance Supervisor. Christopher was keen to enhance his personal development and enrolled onto an Engineer Apprenticeship, with on-the-job training and one day per week at Cambridge Regional College, Huntingdon Campus. Cambridge Regional College is the top FE college in the country for 16 to 18 year-old student achievement at level 3, and the STEM FE College of the Year.
He began his apprenticeship in 2015, spending the first year making thermoforming tools and learning the trade.  The second and third year of his apprenticeship included learning pneumatics, hydraulics, electrics and the basic principles of mechanical engineering. As Christopher developed his competencies in each skill he took his exams at West Anglia Training Association.  In 2018 Christopher Bowmen was awarded the Advanced Level Apprenticeship in Engineering Manufacturing (Engineering Maintenance) in the Science, Engineering and Manufacturing Technologies.  With Christopher's 4 year training programme Charpak confirmed his progression to Stage 2 Engineer and is a valued member of the Engineering and Maintenance Team.
In July 2018 11 employees from a range of Departments throughout the business completed a Team Leader training.  The training was delivered onsite at Charpak HQ to meet the employees' preferred location, avoiding travel to other locations, which was the preference of the course attendees.  This 3 day training is part of the succession planning and personal development for the Charpak team.
Further in-house training in 2018 includes a Leadership and Management Course with another 11/12 individuals enrolling on the course which starts in September 2018.  To further enhance individuals' people management skills and personal development a workshop in Managing Conflict and Appraisals training is being rolled out company-wide.
Charpak Ltd offers many opportunities for employees to enhance their personal development.  For more information on available courses contact the HR Department.