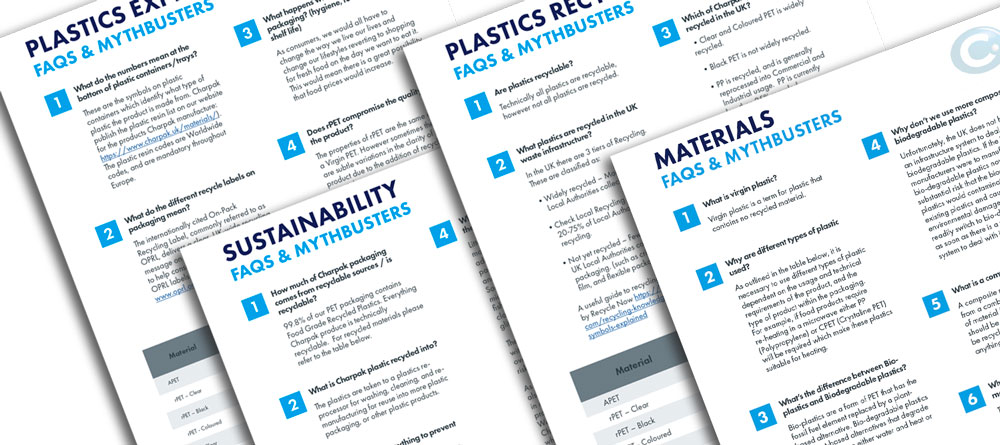 FAQs – Materials and Plastics Explained
Charpak Ltd have produced a series of FAQ guides. You can read, bookmark and download them here. These FAQs answer questions such as why plastic packaging is used; what packaging is recyclable and can be recycled; and why materials are used for different solutions.
With our planet's natural resources under increasing pressure the UK Government's proposed Resources and Waste Strategy reforms is accelerating industry change. Driving the most substantial changes for the last 2 decades; our Charpak experts are on hand to help answer your packaging questions.
Charpak Ltd's technical packaging experts and packaging designers create and manufacture deliver B2B and B2C Sustainable thermoformed packaging. Reducing packaging weight and volume; and switching to alternative sustainable materials to reduce, reuse and enable better recycling are key priorities.
Packaging has an essential role to play in meeting specific product requirements of finished parts. Thermoformed plastic packaging meets in-process manufacturing, logistics, and retailer needs. Reducing sensitive products and component parts' damage during manufacture and distribution must be increasingly efficient in order to minimise waste.
Reducing use of natural resources, increasing the reuse and re-manufacture of plastic sheet is already commonplace; though not always widely reported in the media. Charpak have been designing and manufacturing thermoformed plastic packaging for over 30 years.
Retail sector demands include extending shelf-life to reduce food waste. This is an equally pressing global challenge. Packaging which protects products from UV damage also prevents loss of essential nutrients and vitamins, be that for human or animal consumption.  Plastic is a durable, lightweight and recyclable material that weighs less than other packaging materials.  Using recycled plastic to make products and packaging uses 75% less energy than using virgin materials, and offers other environmental benefits. This includes reducing the weight of packaging in order to reduce carbon emissions and greenhouses gases through more efficient transport and distribution; a key consideration for many manufacturers, brands and producers.
Simplifying packaging is key. Innovation in packaging design and manufacture is part of Charpak's DNA. As a responsible, market-leading thermoformed manufacturer of packaging Charpak address the optimum packaging material, and design.  We manufacture high quality product packaging from up to 90% recycled plastics.
The technical information in our Materials guide and Plastics Explained will help demystify this in simple to understand terms.
Charpak Design for Recyclability meeting the 3Rs principle of reduce, reuse and recycle.
We ensure optimum materials are always used. This is in order to meet product functionality as well as aesthetic design.
We ensure the 'right' packaging materials are selected, in order to reduce carbon footprint (both within the supply chain, and for consumer use).
We clearly explain packaging technicalities in a simple to understand fashion.
Charpak FAQs cut through the confusion. Our packaging specialists answer your questions; helping you make the right materials and packaging choices.
Find out more from our FAQs guides, or talk to our experts. Contact us