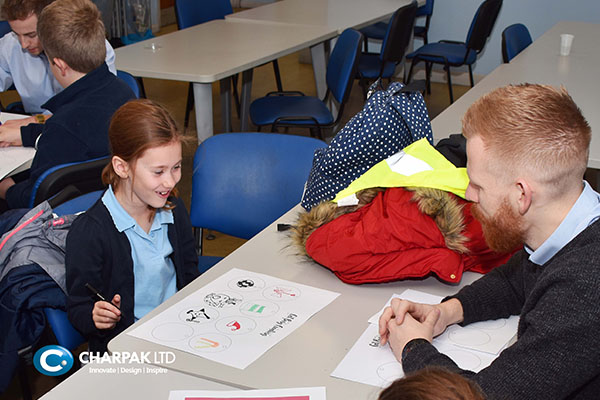 Supporting School Apprenticeships
On Tuesday 11th December 2018, school children and 3 teachers visited Charpak to gain an insight into creative product design and packaging.  The 12 children, aged 7-11, from Hartford Junior School, Huntingdon are studying a Product Design Level 2 apprenticeship.
As part of the apprenticeship scheme the children are encouraged to visit local companies to gain insight spending time with Charpak's team of Packaging Designers.  Charpak were only too delighted to share their skills and demonstrate what their local packaging designers and manufacturer does.  Fully supported by Paul Smith, Managing Director, the company is keen to inspire local youngsters who could grow to become innovative packaging designers of the future.
Kate Robinson, Head of Technical Design lead the day, firstly introducing the pupils to Charpak and showcasing examples of packaging products that are designed and manufactured at Charpak's headquarters in Huntingdon.  With the majority of Charpak's packaging manufactured from recycled plastics, and widely recycled throughout the UK Charpak were happy to demonstrate what happens to the bottles, tubs and trays they place in their recycling bin at school and at home. The children were shown recycled plastic flake and were amazed to learn that over 7 million bottles were recycled into Charpak products in 2017.
The children's half day visit included a fun interactive session, a whistlestop 'A Day in the Life' of Charpak's Packaging Design team, where they spent time with Junior Packaging Designers through to Senior Design Engineers and the Technical Director.
In teams of 4 the pupils were given a design brief.  Collectively each team chose one festive theme, and were asked to draw 8 different designs to create their own Christmas tree decorations.  The teams started by sketching a series of designs, overseen by the Packaging Designers.  Elements of each team's creative were combined every pupil contributed to final selection of the chosen design. The Product Designer leading each team demonstrated how to created their vision in 3D using Charpak's CAD and rendering software.  The designs will be manufactured into the Christmas decorations and be thermoformed in range of recyclable plastic. This truly brings to life how a design brief is taken from design ideation to the manufacture of a final product, and th children will receive their finished products.
The pupils were given a souvenir custom manufactured Hartford Junior School Christmas chocolate enclosed in Charpak's 100% recyclable packaging to reward them for their efforts, and congratulate them on a successful morning's activity.  One of the School's representatives was delighted:
We received a wonderful surprise this morning! Thank you all so much for the children's moulds, they are over the moon with them , they're brilliant!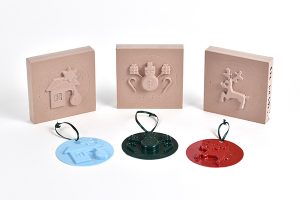 Kate Robinson said "The children were so impressed.  The look of amazement on their faces was a sheer joy, when they could see what was once a bottle, then getting cleaned and seeing it remade into a new, different packaging products, really brought it to life seeing the art of the possible. The Team were only too happy to support their apprenticeship and help them find out more about product design and what the role involves."