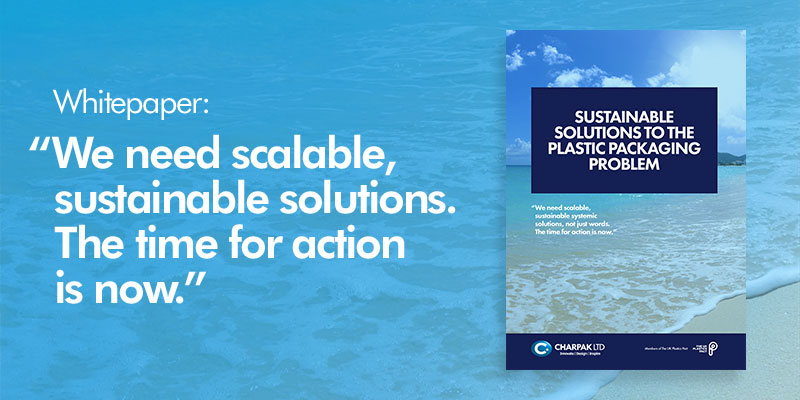 100% recyclable and reusable packaging is the future
We believe sustainable plastics have a place in modern life and that a Circular Economy is achievable.  Charpak's wealth of experience means we are uniquely placed to bring new ideas to market, quickly. Having taken a balanced view on the available alternatives Charpak believes sustainability in plastics for the consumer and industry is the way forward.  When other alternative materials are considered, and undertaking a Lifecycle Audit, using the correct plastics is the least damaging option for a truly Circular Economy.
With the current sentiment around plastics in general, and single-use plastics in particular Charpak aims to bring clarity to this issue, answer common questions and presents a case study. Download this report, hosted on TheGrocer, here
The distinct issue of plastics in the ocean and littering the environment is a societal issue which can be solved through a combination of education, legislation and investment in infrastructure. Changing the narrative from single-use to multi-use is essential, and creating 100% reusable and recyclable packing solutions, in whichever material.
With plastics being public enemy number one, the sustainable packaging challenge is incredibly complex.  Charpak's whitepaper brings together consumer research, NPD recommendations and presents a supply chain collaborative case study which clarifies this complex debate, and provides solutions:
Mintel and Kantar Worldpanel consumer research with clear direction and call to action

The Ellen MacArthur Foundation, The European Commission and WRAP's recommendations for FMCG brands, retailers and producers

Addresses the circular design challenge: Designing recyclability into NPD and packaging innovation

Plus expert answers to the most commonly asked questions

A collaborative x-industry case study showcasing how to bring solutions to market
Download this report, hosted on TheGrocer, here
You will also find more answers to commonly asked questions in our handy FAQs section
Please contact the team with any questions or queries.