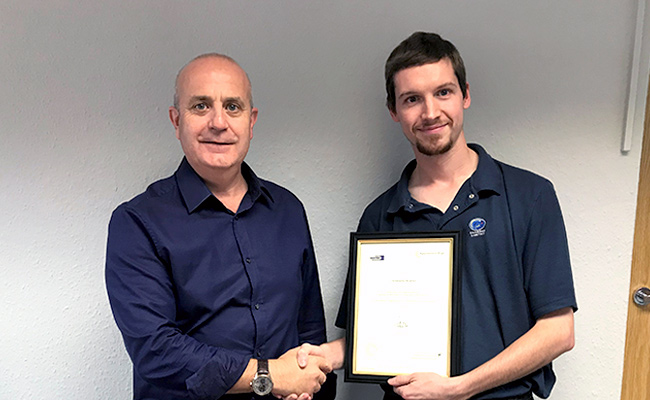 Charpak Managing Director, Paul Smith, presented Christopher Bowmen with his Advanced Level Apprenticeship in Engineering Manufacturing (Engineering Maintenance) Certificate in the Science, Engineering and Manufacturing Technologies on Friday 10th August 2018 at the Employee of the Month presentation in front of over 100 employees, showing the company's appreciation of the hard work he has put in.
Dedicated as ever Christopher came straight off the production floor to receive his award (See picture attached).
Christopher's Mechanical Engineering apprenticeship enabled him to build his strong foundation of knowledge and skills within the engineering world. Keen to enhance his personal development he enrolled onto the Engineer Apprenticeship Scheme, combining on-the-job training with one day per week at Cambridge Regional College, Huntingdon Campus.
Christopher started work at Charpak Ltd on 10th November 2014 and began his apprenticeship in 2015, spending the first year making thermoforming tools and learning the trade. The second and third year of his apprenticeship included learning pneumatics, hydraulics, electrics and the basic principles of mechanical engineering. As he developed his competencies in each skill he took his exams at West Anglia Training Association. With Christopher's apprenticeship completed in April this year Charpak Ltd immediately confirmed his progression to Stage 2 Engineer and he is a valued member of the Engineering and Maintenance Team.
Charpak directors support and promote the view that high quality apprenticeships are essential to business growth, and to boost career opportunities for people across the country – enabling people to progress in work and life, whatever their age, gender or educational background. Apprenticeship schemes not only develop the individual, they strengthen the team and the business benefits from investing and supporting Christopher Bowmen through his engineering apprenticeship.
Christopher has a bright future within Charpak Ltd and has become a valuable asset to his team and the business, his supervisor Stephen Pamment stated "Chris is a hard worker and is constantly developing his knowledge and skills in the workplace, he is a great asset to the team"
Charpak are proud supporters of the UK apprenticeship scheme and look forward to welcoming their next apprentice.