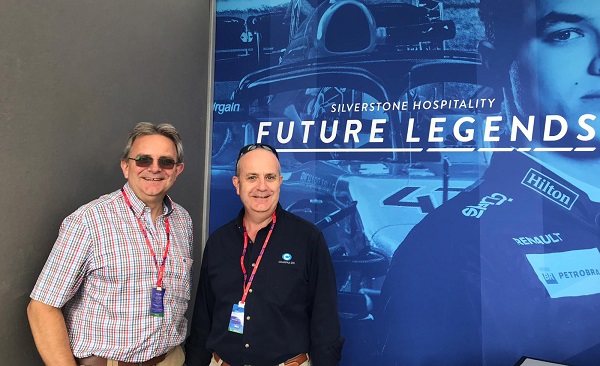 Charpak at the heart of British High-Performance Engineering
Charpak has enjoyed a reputation for innovative advanced performance engineering in high-precision thermoforming for many years, so it was not wholly unexpected when our directors, Paul and Gary Smith, received a VIP invitation to attend the Formula One Rolex British Grand Prix Business Friday at Silverstone.
Apart from being one of the most prestigious and high profile International sporting events held in the UK, the British Grand Prix is the centrepiece of the World beating British High-Performance engineering industry.  Eight out of the ten teams competing in Formula One are based in England, close to Silverstone and its famous engineering cluster.
Charpak Ltd, the current UK Packaging Awards SME of the Year has recently used its uniquely clever engineering approach to introduce new ideas in the automotive industry, robotics, power electronics and, of course, its patented Twist-Loc innovative recyclable tamper-evident rPET food packaging which is currently flying off retailer shelves up and down the country.
Charpak Technical Director, Gary Smith, said,
"I thoroughly enjoyed the chance to talk to my fellow professional engineers about recycled thermoformed plastic packaging and components.  Getting up close and personal with Formula One cars was an added bonus, the engineering attention to detail is fascinating!"
Charpak Managing Director, Paul Smith, said,
"On behalf of my company, I would like to thank everyone at Silverstone for making us feel so welcome as well as for all the useful introductions.  Gary and I have met some amazing people today and we look forward to doing business with them."
Earlier in 2019, we announced the launch of the UK's first Circle of Life Localised Circular Economy which feeds the Huntingdon-based UK factory with food-grade recycled rPET plastic, gathered from household waste collected and processed locally in Cambridgeshire, for an ultra-low carbon footprint to ensure sustainability and eliminate local plastics from reaching the oceans.
Find out more about Charpak advanced engineered and automotive packaging solutions or contact our Automotive Lead and market specialist Niall Johanson.