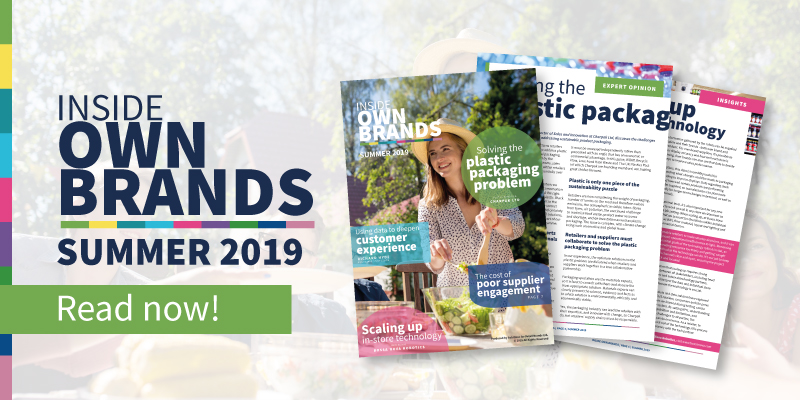 Creating an effective and transparent own brand supply chain
Inside Own Brands – Summer 2019
Charpak Ltd have collaborated with Inside Own Brands, the online quarterly magazine that brings together expert knowledge, opinion and insights into the latest trends and news from the world of retail own brand.  This collaboration is to offer our customers insight from a range of industry experts, to help them get the most from their supply chain.
Read and Download the issue here
The Summer 2019 issue of Inside Own Brands theme is transparency. Rather than in the traditional sense often discussed for food, around traceability and farm-to-fork, the focus is on transparency and collaborative working throughout the own brand supply chain.  Transparency is a key pillar of successful engagement and collaboration. Openness about objective, rationale and performance. Transparency is essential to not only engage supply chain partners, but to also engage consumers, address their needs and concerns, which of particular importance is the environmental aspects of climate change, food waste, carbon footprint and plastic pollution.
In this issue, Jay Ramsay explores the importance of collaborative working. Guest contributor Richard Hyde, associate professor, explores how data can be presented to consumers in a more transparent way; and a more 'appetising' way.  This is especially around the area of quality as one of the three main triggers for food purchase.
Charpak's very own packaging expert Justin Kempson, continues the transparency theme as he explains how collaboration is an essential part of solving the challenges around the plastic puzzle, and offers his bold recommendations for best practice in sustainable packaging.
In addition to the benefits of collaborative working, Steven Howell explores what US private brand teams can learn from the more established own brand retailer practices and systems in the UK.
Kelly Cookson of S4RB, publishers of Inside Own Brands, debates the topic from another angle addressing the cost and implications of poor supplier engagement. And finally, Red McKay from Bossa Nova Robotics, in his guest contribution, explores how retailers can better harness in-store data.
This combined expertise of contributors from across the own brand retail supply chain is an issue not to be missed.
Read and Download the issue here
To receive future issues of Inside Own Brands and keep up-to-date on the latest expert opinions you can subscribe here.
About S4RB
S4RB are an own brand grocery retail specialist, providing consultancy and retail supplier engagement expertise. Via their Affinity™ platform, they help retailers evolve their own brand products, ensuring quality, consistency and competitiveness while improving the efficiency, accuracy and cost effectiveness of their interactions with suppliers.