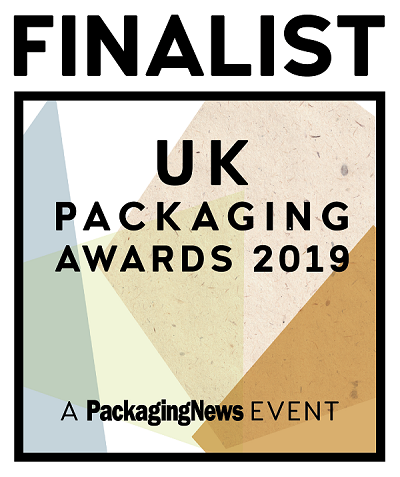 UK Packaging Awards 2019 Finalists
As current UK Packaging Awards SME of the Year 2018/19, Charpak are delighted to have the opportunity to defend the title for a consecutive year, having learnt the company has been shortlisted as a Finalist in the SME of the Year 2019/20.
The Charpak drive and passion is to seek resolutions to environmental, regulatory, societal and customer needs with our proactive, agile and design-led approach to packaging.
The company's patented Twist-Loc tub has also been shortlisted as one of the Finalists in the Innovation of the Year. The UK Packaging Awards Innovation of the Year category rewards packs which have brought something new and unexpected to the market. Twist-Loc featured within the Innovation Showcase at the NEC Packaging Innovations Exhibition where it was selected as one of the Top 10 new innovations in 2019.
Justin Kempson, Director of Sales and Innovation says:
"We are overjoyed the company-wide team's efforts in producing this new rPET tamper-evident tub is being recognised by the very well respected UK Packaging Awards independent judging panel of industry experts. This second industry recognition since the product's launch in February 2019 is welcomed by the team who have remained steadfast during its development process."
Managing Director, Paul Smith advises:
"We are humbled at being selected as Finalists in the UK Packaging Awards 2019.  We have the opportunity to provide real-world solutions which go a long way to addressing the global challenge of protecting natural resources and preventing waste.  This includes developing more widely recycled packaging, which is primarily manufactured from recycled plastic.  And, as active members of The UK Plastics Pact and RECOUP we collaborate with local authorities, and across the retail, manufacturing and waste and recovery supply chains where we launched (what we believe to be) the UK's first Localised Circular Economy programme in January 2019. This is our modus operandi, our DNA, and there is more to come in 2019 and beyond. 

We also continue to engage more with consumers to help them understand why we package products the way we do, and how we can help everyone reduce, reuse and then recycle more and do it better.  We will continue to work tirelessly developing new solutions that remove and reduce non-recyclable plastics and take more bold strides forward to develop new sustainable product and packaging solutions."
Charpak is particularly thrilled to learn our nomination of Mark Caul has been shortlisted as a Finalist and noted for his Outstanding Contribution to Industry.
Gary Smith, Technical Director adds:
"We continue to strive to design and manufacture best-in-class packaging.  As a responsible family-owned company that is developing new sustainable packaging and product solutions every day, we very much look forward to learning the Judges' feedback.  We are striving to lead the packaging industry in making positive and instrumental changes to achieve zero waste and circular economy programmes.  We are looking forward to the Awards Ceremony at The Grosvenor House Hotel in London on 7th November."
Read more about The UK Packaging Awards 2019 here