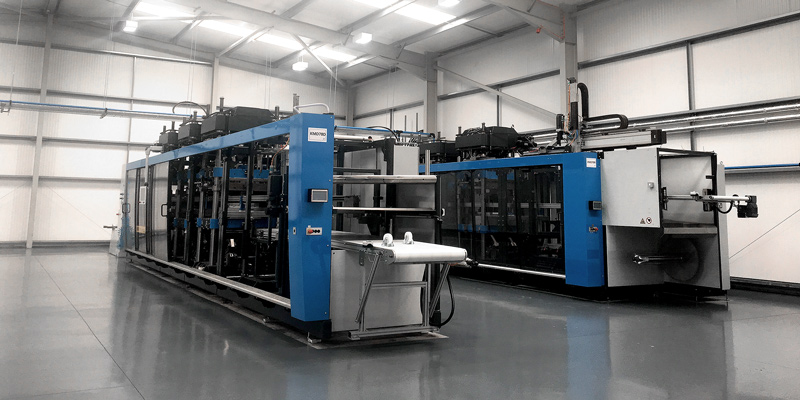 Expanding SME invests millions in new technology
Charpak's latest purchase of its new Kiefel KMD78 thermoforming machine is part of the company's 5 year multi-million development programme.  This latest new equipment is in addition to the capital expenditure in 2 new Illig RD53D machines in the first six months of this year.
The Company's strategic 5 year investment plan is well underway, with delivery of the third new Kiefel KMD78 thermoforming machine, which was commissioned in June 2018.   The new thermforming machinery includes up-stacking, down-stacking and pick-and-place/robotics. The perfect combination of 3-station and 4-station machines ensures the highest quality packaging, and bespoke designed packaging meets the stringent ISO 9001 2015 standards.
Following the addition of a second warehouse facility expansion in 2017, automated stackers, and a suite of metal detectors throughout the production facility Charpak's Quality Assurance is accredited to BRC Grade AA Global Standard for Packaging.
On 30th August 2018 an additional Kiefel KMD78 will be commissioned growing the company's capability to 16 state-of-the-art machines.  Charpak's investment in new machines increases production capacity over 600,000 units a day from the Kiefel KMD78s alone.
Kevin Edwards, Production Manager, is proud of the level of commitment by the business in both machinery and in building the expertise in the Production Team advising:
"In addition to the investment in machinery, I'm delighted to welcome Kelly Paddington-Hughes, Production Planner to the team.  With over 7 years of production planning experience Kelly's comprehensive review of production planning has moved the company forward leaps and bounds in improving process flow, planning and manufacturing efficiencies, ensuring our agile service and market-leading production times are better strengthened to meet our clients' fast turnaround times."
With Charpak recently launching Twist-Loc, a recycled food grade container that replaces non-recyclable containers the company's sustainability credentials are addressing business and consumer demands' for environmentally friendly packaging.  Every client, from the small local business to the international retailer, is served with the highest level of customer service, and custom-designed and manufactured packaging.
The family owned business has been recognised as a serious contender in the thermoforming packaging industry, and is a FINALIST in the national UK Packaging Awards. The company will find out if they win the SME of the Year Category at a prestigious national awards ceremony at The Grosvenor House Hotel on 30th October 2018.