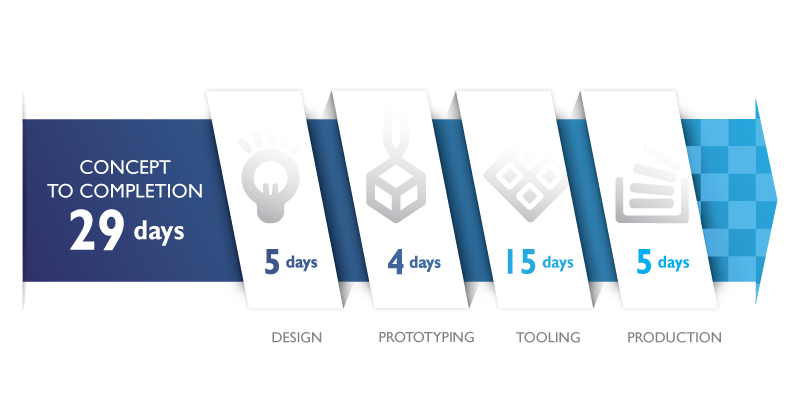 NPD and Packaging innovation at its Best
Offering the complete packaging service Charpak design, prototyping, tooling and production capabilities are ALL in-house.  The UK-based Cambridgeshire headquarters provides bespoke packaging solutions for UK, European and global supply chains.
New NPD and packaging solutions are designed from initial concepts through to full manufacture.  This incredible service can be delivered in just 29 days.  Our team are highly professional, dynamic experts in their field and brilliant in their ability to rise to a challenge.  That means when our clients present a new challenge every design-led solution is unique for each of our clients.  To find out how we deliver this promise, read more ….
If you're looking for a quick turnaround time in the FMCG market our Food and Drinks market specialists can achieve it. 
For more complex manufacturing packaging challenges which need expert technical design, precision-engineering, electronics and automotive expertise, look no further.  
Our NPD Team, packaging designers, and market specialists develop new designs for small scale production runs, to all-year-round manufacturing just-in-time solutions. 
Over 3 decades of expertise is committed to delivering the highest level of expertise.  NPD is part of the company's DNA.  Robust testing of concept designs, and advanced-engineered themoformed packaging solutions ensures every piece of packaging is fit-for-purpose.  We are committed to creating the WOW factor with our clients each and every time.
With environmental impact and plastic waste being of global concern, the Charpak packaging specialists are committed to Designing for Recyclability and (where end functionality allows). Our company ethos is to design sustainability into NPD and packaging.
This simple 5 step process for circular design is always applied:
Assess product technical and functional requirements

Review the most feasible materials.

Conduct a lifecycle analysis, and end-of-life audit

Target minimal environmental impact

Address waste minimisation:  reduce / reuse, recycle
SUSTAINABLE PACKAGING DOESN'T NEED TO COST THE EARTH
Recent successes:
2019: Charpak launched the UK's first Localised Circular Economy in 2019 collaborating across supply chain.
2019: Charpak launched the patented Twist-Loc tub into the UK food retail sector.  The unique patented Charpak design is manufactured from recycled material and replaces non-recyclable packaging.
2018: Charpak were recognised in the UK Packaging Awards as SME of the Year, in recognition for their developments to packaging sustainability.
2017:  Charpak received recognition as Highly Commended Runner Up in the UK SME Business Culture of the Year Awards
Get in touch with the team today to discuss your packaging needs
Help us  help you achieve YOUR packaging and sustainability goals.